Tips for a successful kitchen renovation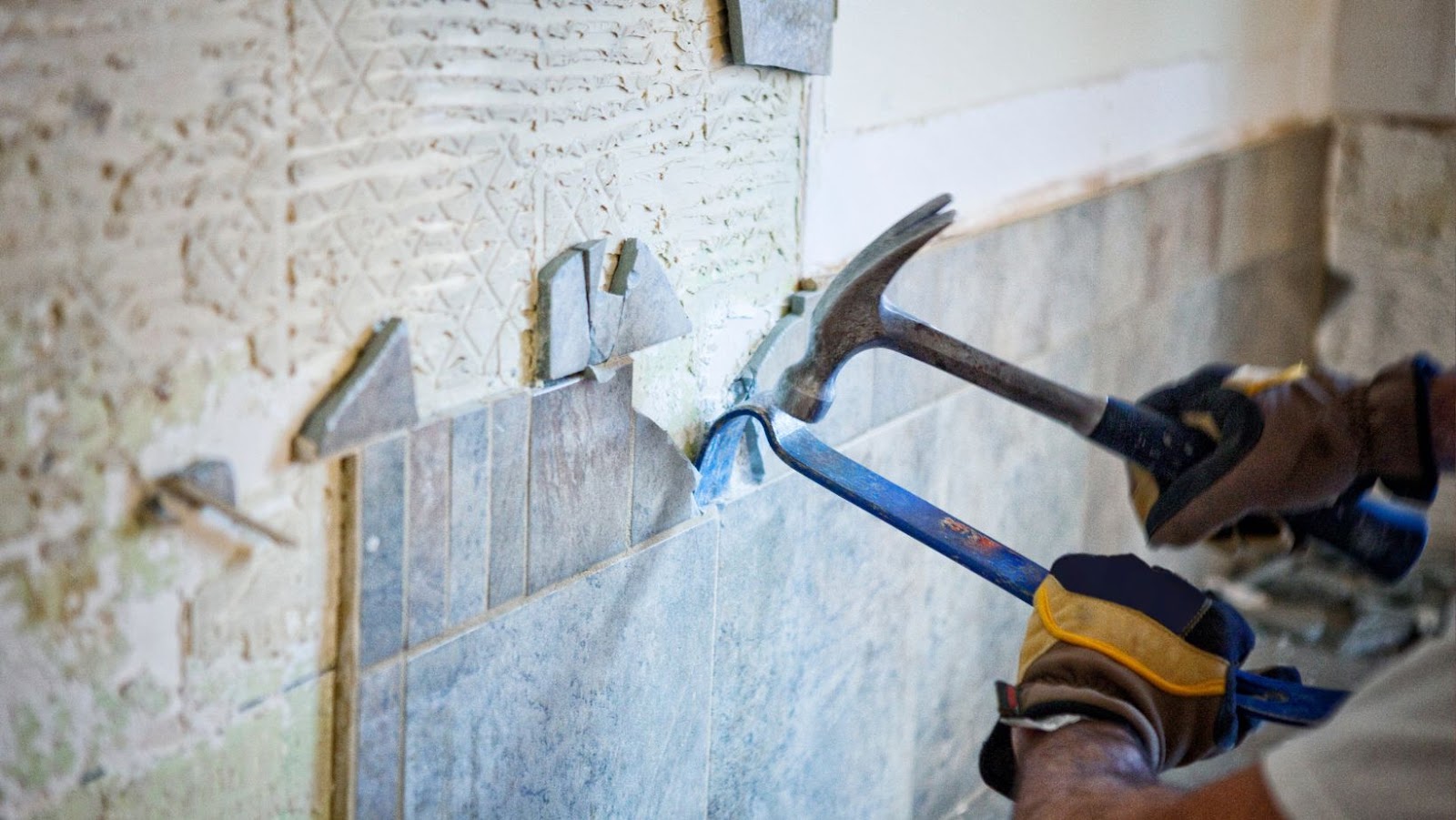 What to know about a full kitchen renovation
Before starting any kitchen renovation project, it is important to determine your budget. Knowing how much you can afford to spend on the project can help you make decisions that fit within your budget. This will also help you to determine which features and finishes you can include in the renovation and where you may need to make cost-saving compromises.
Set a realistic budget
A full kitchen renovation can be an expensive and time-consuming endeavor. Before planning your dream kitchen, set a budget that is realistic for your situation. Consider the size of the space you are renovating, the cost of materials and appliances, any additional special features you would like to add and how much of the labor you are willing to do yourself. Make sure to factor in any extra costs that might arise such as delivery fees, installation fees or additional structural work required.
When planning a kitchen renovation budget, consult with professional contractors to get an accurate estimate of how much your renovation will cost. Armed with this estimate, you can prioritize which items are most important and select materials that fit within your price range. You may also want to ask the contractor if there is a way to reduce costs without sacrificing quality or features that will affect functionality or durability over time.
Lastly, make sure to include 10-15% of your budget as a contingency in case any unplanned expenses arise during the course of the project.
Prioritize your needs
When it comes to a full kitchen renovation, budget is an important factor. It can be difficult to determine exactly what your budget should be and how much money you should allocate for each item. It's important to focus on prioritizing your needs when planning a full kitchen renovation. While there are limited options when it comes to budgeting for the project, there are ways to remain within your desired price range.
Prioritize your needs and consider what changes you need to make for the overall safety of your kitchen as well as specific elements that can help modernize or enhance the beauty of the space. Start by making a list of which items are most important, such as changes needed in order to ensure food safety or visible aesthetics that will increase the resale value of the home. You should also include alternative solutions; for example, instead of purchasing all-new appliances, determine if you could opt for just replacing smaller components like handles and knobs.
Once you have these details sorted out in advance, it will be easier to accurately determine your budget and stay within it throughout the renovation process. If possible, talk with a contractor before redesigning in order to help with planning and pre-budgeting so that every aspect is accounted for during demolition and construction stages – this will help ensure a successful renovation while meeting budgetary goals.
Know Your Style
Before embarking on a full kitchen renovation, it is important to first decide on the style you will be going for. This will help you to better plan and organize your project, as well as determine the materials and colors you will use. You may also want to consider the trendiness of the style you choose, as you don't want your kitchen to look dated in a few years.
Researching different styles, colors, and materials and trying to decide between them can be a daunting task, so having a clear plan in mind can save you time and money.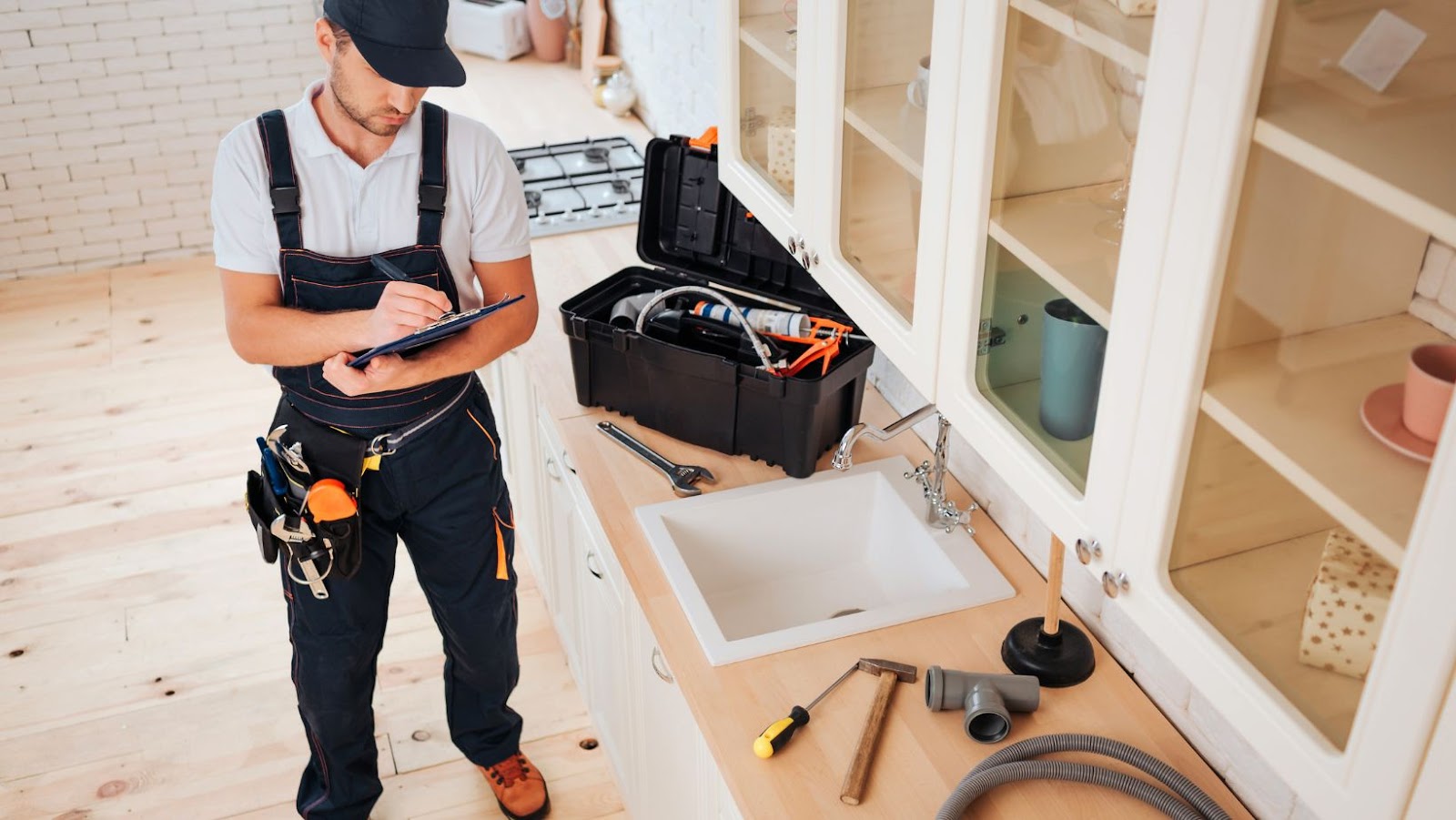 Research popular kitchen styles
Before undergoing a full kitchen renovation, it is important to research popular kitchen styles. This will help you figure out what kind of look you want for your kitchen and ensure that your remodeling project follows the latest trends to give your home the best value.
There are numerous kitchen styles to choose from, including contemporary, industrial, minimalist, rustic and traditional. It is also helpful to research pricing so that you can determine what materials will work within your budget before you shop around.
Consider hiring a design expert who can help guide you in achieving the specific style you desire for your renovation project. With careful planning, research and hiring skilled professionals, it is possible to create a beautiful new kitchen space that reflects carefully designed elements and bespoke elements tailored uniquely to your space.
Consider the "triangle" of kitchen design
The "work triangle" is a key concept of kitchen design that was developed by an efficiency expert over 50 years ago. This triangle is the configuration of your major work centers such as the refrigerator, sink and stove. In order to make kitchen planning in regard to workflow and functionality easier, he proposed arranging the three points of these activities in a triangular pattern.
It's important to consider this triangle design when planning a full kitchen renovation. Each side should be at least four feet long with no more than nine feet between the farthest points. Ideally, most cabinets and appliances should be located within easy reach of each other (including being able to open one door without bumping into another). However, this isn't always possible if you have limited space of varying lengths or shapes.
Also keep in mind that you don't want your workspace full of obstructions or tight curves which would make moving around difficult while preparing meals. Without any good flow it can be very challenging to carry out some simple kitchen tasks – something that might cause frustration and change how you enjoy cooking or entertaining guests at home! Utilizing an experienced renovation contractor will help you develop two-dimensional floor plans so these elements are designed for balance and ease of use.
Choose Your Materials
When it comes to kitchen renovations, one of the most important decisions you'll have to make is which materials to use. Your choice of materials will determine the look and feel of your kitchen, as well as its durability and maintenance requirements. With so many materials on the market, it can be difficult to know where to start.
Let's look at some of the most popular materials available and their pros and cons, so you can make an informed decision:
Consider the durability of materials
When undertaking a full kitchen renovation, it is important to consider the durability of your materials. Not only do you want your kitchen to look beautiful, but you also want it to withstand the wear and tear of everyday life in the long run. The surfaces and materials in your kitchen are often the first line of defense against spills and splashes. If not maintained properly, they can easily become stained, scratched, or faded over time.
A stone countertop such as granite or quartz is an ideal choice for achieving a high-quality finish that will stand up to years of use with minimal maintenance. Ceramic tile is also an attractive option that comes in wide range of styles and colors. These tiles can easily be scrubbed clean with soap and water so they stay looking like new for years on end.
For cabinets, plywood is generally recommended by experts as the most durable material option in terms of quality and longevity—although it is often more expensive than other options such as particle board or MDF (medium-density fiberboard). Additionally, these cabinets usually need to be painted or treated with sealant upon installation to ensure their lasting durability over time.
The flooring material that you choose should also be sufficiently robust and suited to its purpose while also being easy on the eyes—meaning something like ceramic tile or hardwood floors would be ideal choices. When selecting flooring materials keep in mind stain resistance, slip resistance (especially if you have kids!), scratch resistance, heat insulation etc., depending on how heavily your kitchen will be used day-to-day. In any case having samples at hand when searching for materials can save you a lot of headaches later on!
Consider the cost of materials
When planning a full kitchen renovation, one of the most important factors to consider is the cost of materials. Different materials have different price points, making it important to research and learn more about what might be available in your area.
Wood is one of the most traditional material choices for cabinetry, but it is also one of the more expensive options as well. Other popular types of cabinetry include laminate and thermofoil, which are both relatively cheaper than wood but still offer durability and style for your new kitchen. Natural stone counters are another popular choice for a kitchen renovation, with granite being a classic choice that adds elegance. Alternatives like quartz offer great style with added anti-staining properties while still reducing cost.
All surfaces in your kitchen will need to be taken into consideration when thinking about material choices, including flooring. Vinyl flooring is usually the most affordable option but can come with drawbacks such as noise and lack of insulation; hardwood floors are also available but can become quite expensive depending on type and quality; tiles are also great options that come in many colors and styles at various costs; stone floors such as marble or limestone offer a luxurious look but prices vary greatly based on type and finish.
Considering these factors when beginning your planning process can help ensure that you find resilient materials within your budget so you can ultimately end up with a kitchen that you absolutely love!
Plan Your Layout
Before you embark on a full kitchen renovation it is important to plan your layout wisely. A successful renovation will create a kitchen that is both functional and aesthetically pleasing.
To ensure you have the best kitchen space possible, consider the following:
Style that works best for your lifestyle
Size of your kitchen
Appliances you will be using
Any passageways you may need to access adjacent rooms
With careful planning, you can create a kitchen that is perfect for you and your family.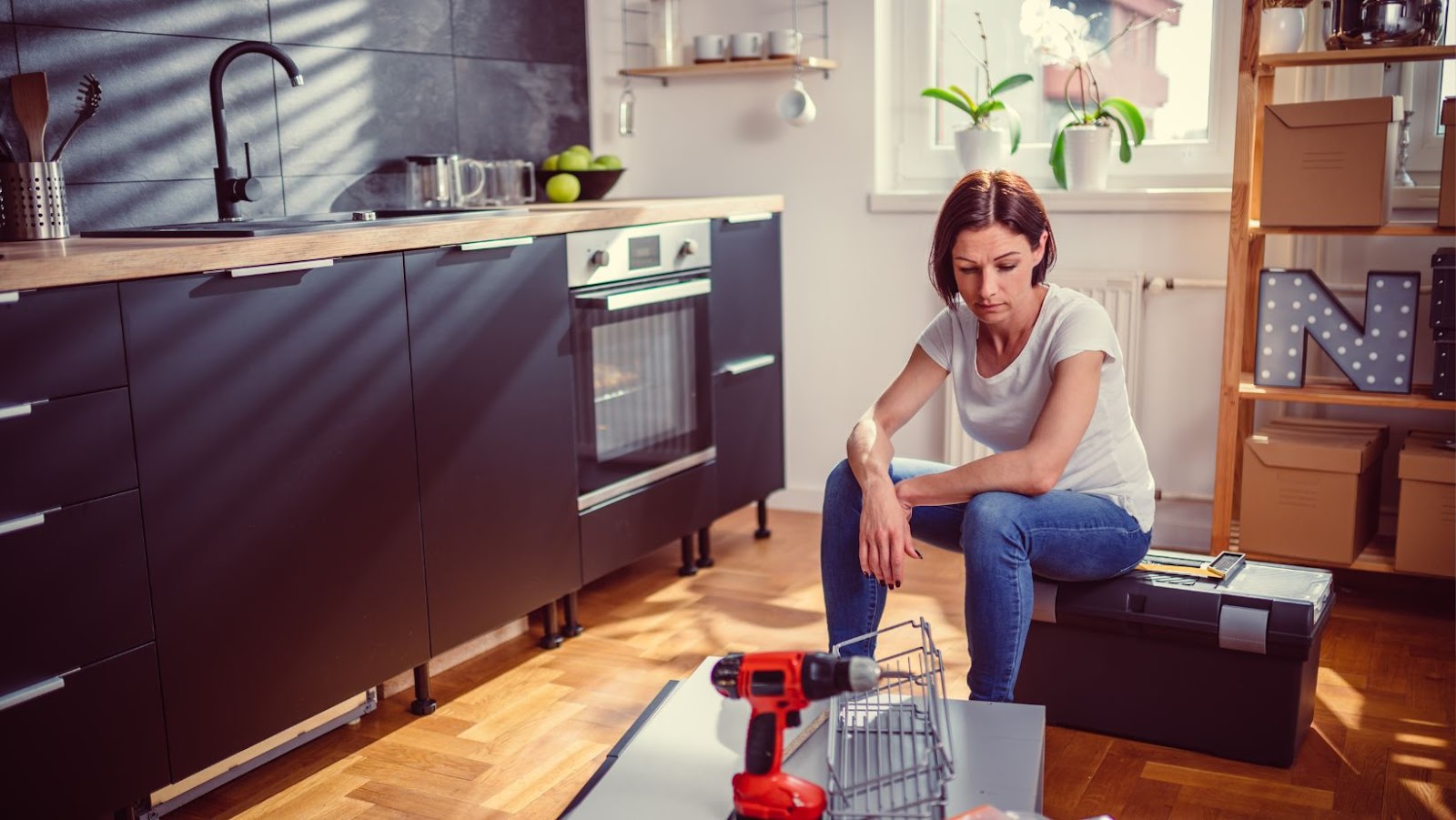 Determine the size of your kitchen
When it comes to planning a full kitchen renovation, one of the most important steps is determining the size of your kitchen. Knowing the size and layout of your kitchen will help you to plan the space, choose appropriate fixtures, and choose furnishings that are appropriate for the available space.
Before you begin to plan your new kitchen, measure all available wall and floor space in order to get an accurate idea of how much usable working area there is. You should also measure any outlets that could be used for appliances and fixtures. Some areas may be difficult or impossible to measure accurately on-site, so consider sketching a rough floor plan with approximate measurements for accuracy. This will help make sure that any furniture or equipment you buy fits into the necessary spaces.
Think carefully about how many countertops or other surfaces you will need based on the type of food preparation you do most often. Consider features like extra shelving or storage units if they are necessary; these tools can help make fast work out of meal prep while providing extra storage space at the same time. Make sure there is also plenty of space around all appliances; this will ease movement in your kitchen while reducing frustration as you cook meals for yourself and your family.
Consider the "work triangle" of your kitchen
When undertaking a kitchen renovation, the most important thing to consider is the usability of the space. The "work triangle" is a concept developed by architects in the 1950s that takes into account how a person moves around within a kitchen. This triangle is formed by connecting the sink, refrigerator and stove, with no side of the triangle being too long or small. The ideal configuration will reduce fatigue and ensure that items are close enough to be easily accessed while cooking or preparing meals.
When planning out your new kitchen layout, make sure to consider how you'd like to configure your work triangle and create efficient movement within your space. Think about:
What objects you use most (did someone say coffee machine?)
Which items you use less often (maybe that blender hidden away in back of cabinets).
Allow room for prep areas and consider if there's a need for additional storage such as spice racks or other drawers for ingredients. Proper planning beforehand can help make sure that your kitchen layout is both organized and practical when it comes time for cooking up tasty dishes!
Hire a Professional
Renovating your kitchen is a big project and you want to make sure that it is done right. Hiring a professional contractor can be the key to ensuring a successful kitchen renovation and avoiding costly mistakes.
A professional will be able to guide you and make sure that all the necessary steps are taken to achieve your desired results. They will be able to help you plan and create a budget, source materials, and manage the construction process. Additionally, they will have the necessary knowledge and experience to answer any questions and guide you through the process.
Research contractors in your area
When considering a full kitchen renovation, doing your research is essential to finding the right contractor for the job. Start by getting recommendations from friends and family who have completed similar kitchen renovation projects to find contractors they trust. Create a list of contractors who provide services in your area, then verify that they are fully licensed and insured.
Speak with each contractor you are interested in to discuss their experience with kitchens, inquire about pricing and find out if they have any photos of past projects. Checking customer reviews from review sites or social media can also help you choose the best contractor for the job. Make sure to discuss deadlines and expected completion dates with your contractor as well as which materials will be used for the project. Confirming all of these details can help ensure complete satisfaction once the project has been finished.
Get quotes and compare prices
When doing a full kitchen renovation, it is essential to hire a professional contractor. Before selecting a contractor, it is important to do your due diligence in finding the right fit for your project. Some considerations include the contractor's reputation, experience and price.
Request quotes from multiple contractors so you can compare prices. Ask each contractor questions about materials, timeline, price and method of payment prior to signing a contract. Furthermore, inquire about the subcontractors that may be working on the project and get estimates for additional services such as electrical work or plumbing.
Ensure that each quote includes an itemized list of all costs including labor and materials so you can easily compare against other quotes. Verbal estimates should also be discussed ahead of time; if there is any discrepancy between what was discussed orally and what is written in the contract before signing, ask both parties to explain their understanding of how much something will cost.
It's important that you're both on the same page regarding budget expectations before beginning renovation projects.
Make sure to reference comparable projects done by any prospective professionals when making your choice of who to hire for work on your kitchen renovation project.
Lastly, don't forget to ask for references from past customers or samples of his or her portfolio so you can get insight into quality and customer service delivery expectations.
Finishing Touches
The "finishing touches" are the aspects of a kitchen renovation that can truly make your design stand out, from the lighting fixtures to a beautiful backsplash. It's all about the little details that come together to create a truly unique and stunning kitchen design.
Here are some tips that you should keep in mind when considering the finishing touches for your kitchen renovation:
Add decorative elements
When you complete a full kitchen renovation, the key to success is in the details. Using decorative elements is a great way to complete the look of your new kitchen space and really bring the design together. Here's what to know about adding decorative elements to your kitchen renovation:
Materials: Pay attention to how light reflects off materials like tiles, glass, and metals used in mosaics and accents. Also consider texture choice; steel adds industrial appeal while wood may create a more rustic atmosphere.
Lighting: Install task lighting over countertops for task-based lighting and under-cabinet lighting for accentuating backsplashes or architectural details like windows or arches. You may also want ambient lighting like pendants that hang over islands as well as overhead can lights.
Colors: Contrasting colors between cabinets and walls can make a room more vibrant, while more complementary hues create a sense of relaxing coziness. Bright colors are eye-catching whereas soft colors give off a more calming vibe. If you prefer neutral tones, be sure to add pops of colorful artwork or other touches throughout the space.
Hardware: The hardware style you choose – knobs, handles, hinges – can either blend into or stand out from its surroundings depending on design preference. It is important that it matches the cabinet material selection such as metal for metal finishes or brass for wood finishes. In addition to color and style choice, consider factors like durability – does it fit with your lifestyle? Functionality – will it open smoothly? And security – make sure latches lock properly when closed.
Accessories: Don't forget about those finishing touches! Finishing accessories like cookware holders, open shelving for displaying knick knacks or art pieces add personality and functionality all at once! Have fun with it– show things off that have meaning behind them or pick items that spark joy in your heart when looking at them.
Choose the right lighting
Lighting is an often-overlooked aspect of a full kitchen renovation, but it plays an important role in the functionality and atmosphere of your home's kitchen. One lighting consideration includes overhead lights that provide general light for the entire room. Installing either recessed cans or track lights can be done relatively easily during the renovation process. Other options include mood lighting and accent lighting, which provide task lighting or illuminate with brighter or softer light to enhance aesthetics.
Whatever your needs, it's important to choose quality fixtures with the correct wattage and properly sized bulbs to ensure that you don't end up with low-light conditions or too much harsh lighting after installation. You should also consider if any wiring has to be done – if so, leave this part of the job for professionals who are experienced in electrical work so that you ensure all work is up to code and safe. Lastly, if you plan to install dimmer switches in newly renovated spaces, make sure these are wired appropriately during construction as well.
Choosing thoughtfully crafted and correctly installed light fixtures will help create an inviting atmosphere while ensuring safety throughout your home.