Ways to improve the interior of a split level home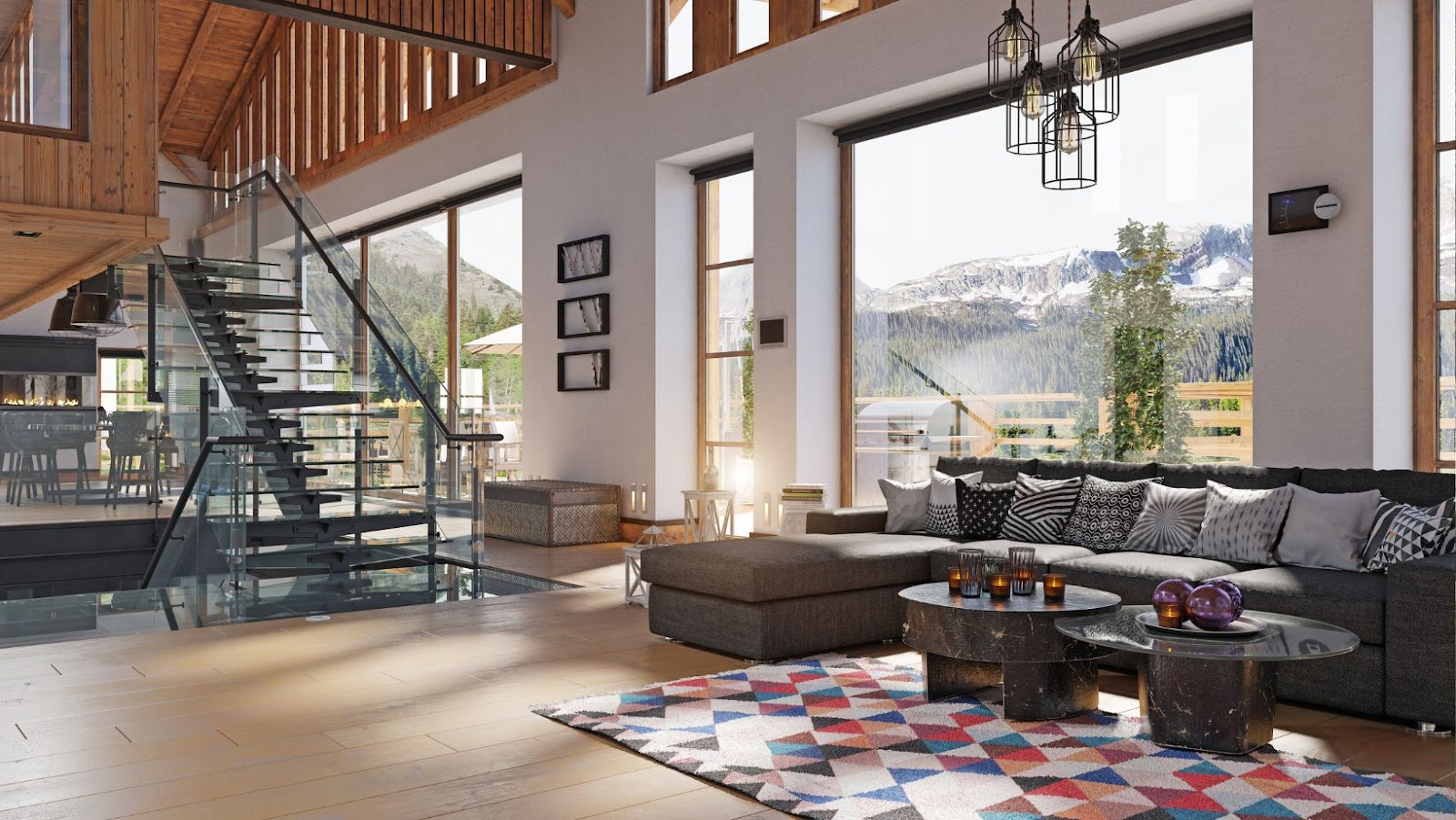 How to improve a split level homes
Floors play a major role in setting the tone of a room, and this is especially true when it comes to split level homes. The right flooring can make a huge difference in the look and feel of your home. There are many different types of flooring to choose from and each has its own advantages and disadvantages.
Let's take a look at some of the most popular flooring options for split level homes:
Consider adding hardwood or laminate flooring
Adding hardwood or laminate flooring to many of the rooms of your split level home can dramatically improve the interior. Hardwood adds warmth and beauty to any room, lending an inviting atmosphere to both guests and family members. It is important to use good quality hardwood that is sealed so that it can withstand traffic and normal wear and tear. When choosing a wood, investigate types made for single-family homes that are designed for durability. Stains and finishes can also be applied to achieve a specific shade, such as red mahogany or walnut.
For those who would like a lower cost option or simply don't want the hassle of maintaining hardwood floors, laminate flooring provides excellent options with an array of colors, textures, designs and finishes available. Laminate flooring is composed of several layers that are fused together with heat, adhesives and pressure which makes them extremely durable while providing easy maintenance with regular mopping.
The additional cost savings make this option an ideal choice for split level homes where space is limited. You can even install these floors yourself as most come in tongue-and-groove planks which fit together effortlessly without glue or nails required for each piece leading to significantly improved interior look in very little time compared to other floor materials on the market today.
Look into installing carpeting
Carpeting is a great way to bring warmth and comfort to your split level home. Carpeting significantly reduces noise, making it ideal for households with young children or pets. It also helps to insulate an interior space, providing additional energy efficiency.
When choosing which type of carpet is best for your situation, consider the level of foot traffic that your flooring will be exposed to as well as any allergies that residents may have. It is also important to think about how easy the material will be to clean and maintain over time.
If you are looking for a cost effective way to improve the appearance of your split level home, carpeting can be a great option. Not only can carpets add texture, colour and warmth to any room in your house; they also create a sense of homeliness that is unbeatable!
Invest in area rugs
When you invest in quality area rugs, you can instantly bring both style and comfort to any living space. Choose a color palette for each room that complements any flooring materials that are already present. Beyond aesthetics, area rugs will help to provide sound insulation from footsteps and conversations upstairs or downstairs.
Some of the best options for area rugs include shag, wool, cotton and synthetic fibers. In terms of durability, natural fibers tend to hold up better over time compared to synthetic options. Consider investing in a rug pad as well which can add an extra layer of cushion and also help to protect your floors from faded spots or signs of wear. Additionally, you can use a combination of materials such as adding leather accents with handwoven cotton pieces for an on-trend boho-chic look.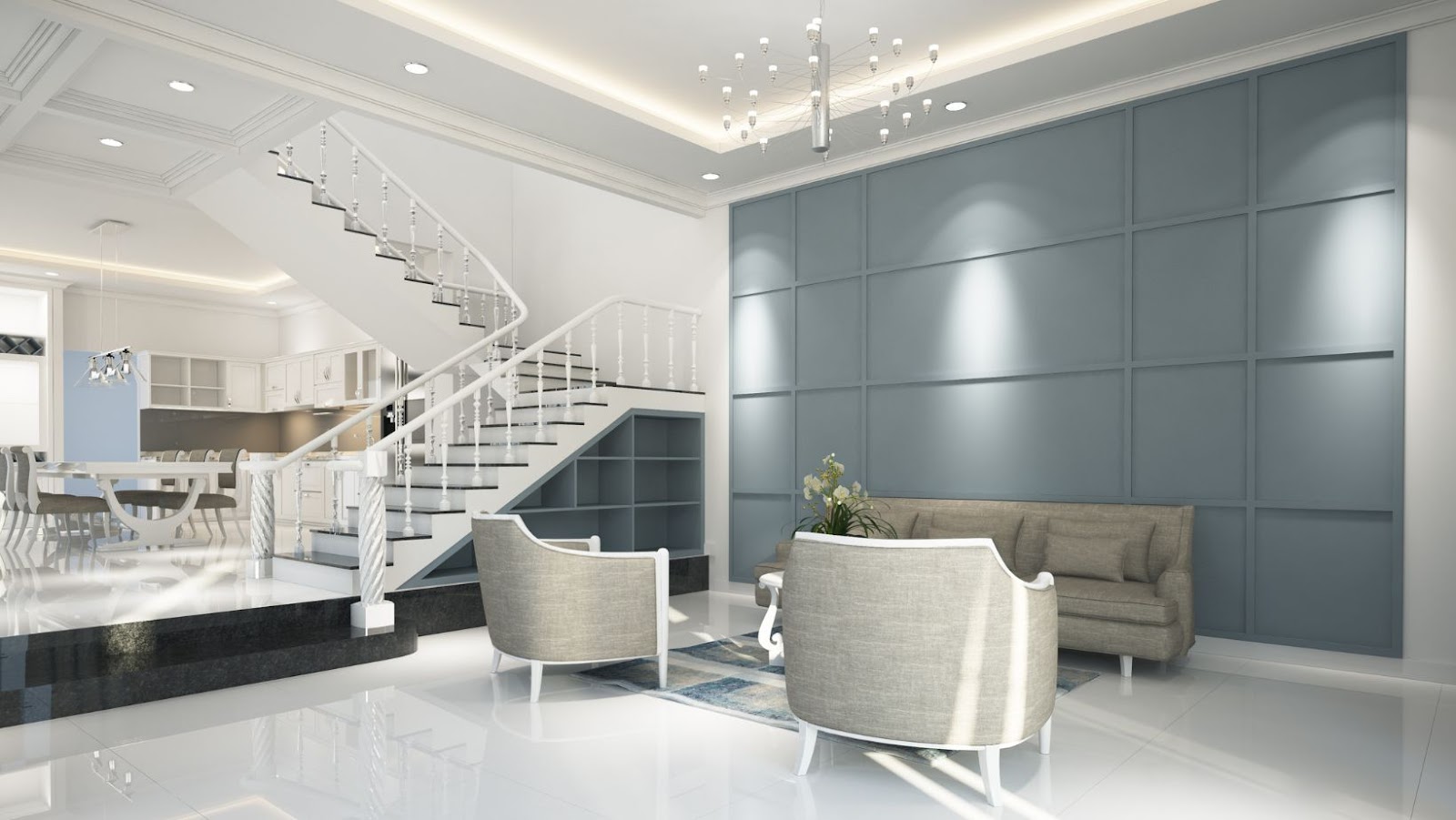 Lighting
Lighting is an important element in interior design and can be used to dramatically transform a split level home. Changing up the lighting fixtures, bulbs and even adding mirrors can create an inviting atmosphere, help to make a room feel larger and also bring focus onto a piece of furniture or artwork.
In this section, we will explore some of the options available to improve the lighting in a split level home:
Install new light fixtures
Installing new light fixtures is an easy and inexpensive way to add extra brightness, as well as add character to your split level home. You may choose from a variety of styles which can be found at most home improvement stores or online.
For example, pendant lights are great for adding height and changing the lighting in your living area while sconces near doorways bring more light and accentuate the power of natural sunlight in those areas. Additionally, up-lighting is a great way to add an airy atmosphere to any room by placing the pieces at floor level and aiming them up toward the ceiling.
Add lamps or sconces
Adding lamps or sconces is an easy, yet effective way to improve the interior of a split level home, creating lots of visual interest. Task lighting provides a more focused type of illumination and helps draw attention to different areas. Also, it can make dark corners appear lighter, creating a warm and inviting atmosphere.
There are a variety of lamps and sconces available in various styles and price ranges to suit all tastes. Make sure that your lamps or sconces are placed at the proper height and distance from the wall so they won't be blocked by furniture or other items. As with most types of lighting, it's best to use an even combination of ambient lighting and task lighting for maximum effect.
Consider natural lighting
Natural lighting is the best tool for improving your home's interior design and atmosphere. Doing so requires making changes to the inside as well as outside of the home. You can start by looking at ways to make better use of existing sources of light in the house, including windows and doors. Additionally, sunrooms and skylights can be a great way to improve existing light sources in your split level home.
Sunrooms are a great way to add natural light into your home from more than one angle. Sunrooms often have windows that span at least two walls, creating a bright, visually enhanced space that is free from obstructions like trees or other structures near your property line. To maximize access to natural light while maintaining privacy in concerning areas, consider adding window treatments such as Roman shades or plantation shutters.
Another aesthetically pleasing way to improve natural lighting throughout your entire interior space is through skylights. By utilizing this type of architectural feature, you can provide beautiful visual elements in places like stairwells and entryways without installing new windows or walls. For example, you can use round skylights strategically placed on a ceiling between two floors that will allow ambient sunlight throughout both levels during the day time hours AND nighttime aesthetic qualities when lit from below with a subtle glowing background color from LED lights . Skylights also require much less maintenance than regular windows since they don't open for air flow exchange but still provide amazing views and additional lighting after dark – especially when used in combination with strategically placed wall lights on both levels for added effect!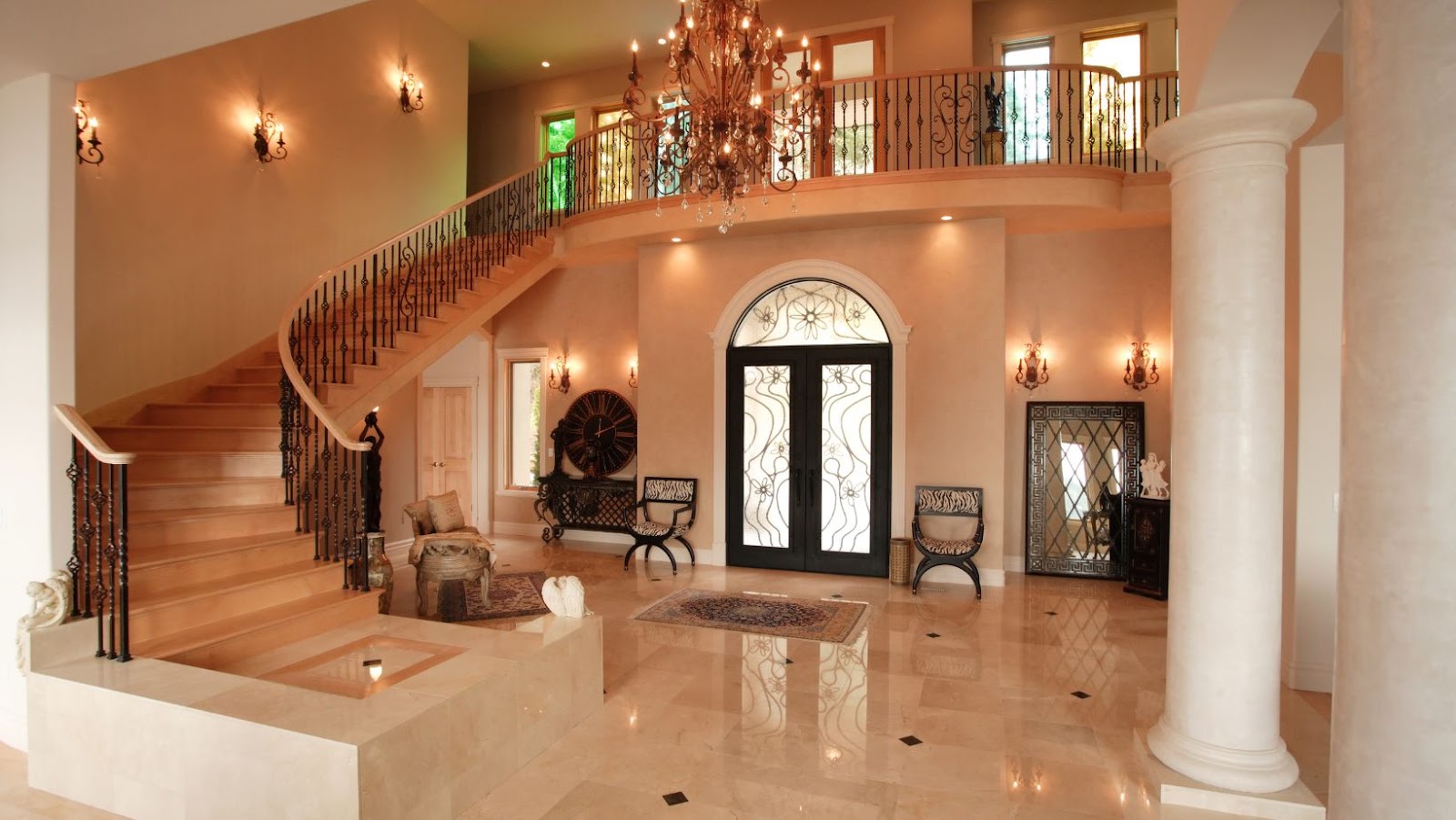 Walls
Walls are a great place to start when trying to give your split level home an interior makeover. Whether you're looking for ways to add texture and warmth to your living room or you want to make a statement in the bedroom, there are plenty of ways to improve the walls in your split level home.
From adding different color paints and wallpapers to accents like wall murals and wall hangings, there are many options you can explore.  You can now order fine art prints online and get an incredible degree of detail and vibrancy. Get all the benefits of a professional gallery, without the added costs and hassle. Let's take a look at some of the ways you can transform your split level home's walls:
Paint walls in a light neutral color
Painting your walls in a light, neutral color is an inexpensive and easy way to improve the interior of your split level home. Neutral tones—such as taupe, gray and white—offer a sense of comfort, while light hues help to open up the room and bring in more natural light. A warm off-white can also create a cozy atmosphere that still feels bright, while grays provide a modern contrast to traditional wood flooring or carpets.
When choosing paint colors, try studying design magazines or looking through samples from your local store for some inspiration. You can leverage color wheel theory to pick coordinating shades for trim and furnishings which can help add contrast and depth to your walls. Of course, it's important to use the same sheen for both wall and trim paints for an even look throughout. Durable flat paints are ideal for an easy wipe down of handprints or scuff marks caused over time from everyday foot traffic.
Painting walls in a light, neutral color is one of the easiest methods of creating depth, texture and an inviting atmosphere in your split level home while keeping it timelessly classic – so don't be afraid to experiment with ideas!
Hang artwork or photographs
One of the easiest and most cost-effective ways to improve the interior of a split level home is to hang artwork or photographs. Artwork and photos can help to create a visual focal point, and add personality to the walls. They can also be used to break up blank spaces, highlight different parts of your house, or even draw attention away from problem areas.
Artwork and pictures provide a great way to bring color into thinner areas, or help to direct the eyes up towards higher ceiling areas if you're looking for ways to make those spaces feel larger.
When selecting art for your walls, choose pieces that are meaningful and reflective of who you are. Doing so will ensure that the space reflects your distinct style and helps it become a home that's truly yours.
Add wall decals
Wall decals are a fun and creative way to quickly transform the look of any room in your split level home. Wall decals come in an array of colors, patterns and styles that will fit any taste and budget. You can create focal points, add a bright accent, or bring the outdoors in with beautiful nature-inspired prints. They bring freshness, depth and character to a space without any fuss.
Wall decals can be easily changed when your style changes and never leave a mark on the walls. They are also incredibly easy to install as they peel right off and you're done! With wall decals, you can take your home décor to a whole new level with minimal effort.
Furniture
One of the most effective ways to improve the interior of a split level home is to add furniture. Choosing the right pieces of furniture can make your home look more modern and stylish. You can invest in stylish sofas, armchairs, ottomans and other pieces to add a sense of luxury to your interior. Furthermore, furniture can serve practical purposes as well, such as providing extra storage space.
Let's explore the different types of furniture that could be used to improve a split level home:
Replace outdated furniture
Replacing outdated furniture is a great way to update the interior of a split level home. By making thoughtful choices and having some patience, you can create an inviting living space that showcases your unique personality and style.
When selecting new furniture for your split level home, opt for pieces with clean lines, such as mid-century modern furniture or armless sectionals. Consider furnishing areas with several smaller seating options so family members and guests can spread out without crowding the room. A comfortable chaise lounge, ottomans and accent chairs are all great additions to any living room design. In the bedroom, opt to eliminate bulky dressers of drawers in favor of a few stylish cabinets and wardrobes that provide plenty of practical storage without sacrificing good looks.
Finally, be sure to consider the size and shape of each room before selecting furniture; measure walls carefully and take exact measurements of doorways in case large items must be moved through them when delivered to your home. The mix-and-match approach allows you to create a range of settings from one neutral palette if desired; choose fabrics in complementary hues or patterns like stripes or geometric shapes for added interest throughout your space.
Invest in comfortable seating
Investing in comfortable seating is a great way to improve the interior of a split-level home. At a minimum, consider including a few plush sofas and chairs. Choose neutral furniture in light and dark shades that match your existing décor or contemporary pieces that will add an updated flair. Leather and fabric seating choices come in a wide variety of colors, styles, sizes, and shapes. Choose quality fabrics and leathers with removable covers for ease of cleaning.
In addition to traditional seating, include an ottoman for extra comfort, or consider an upholstered storage bench as attractive focal points for the living room or entryway.
Consider adding storage pieces
Split level homes often have areas of the house connected by steps, and these can create challenges when it comes to storage. Instead of leaving those awkward staircases empty, consider adding shelves and standing storage pieces along the walls to create extra storage space. Strategically placed bookshelves can enhance the look of a room while adding more storage room. Console tables or accent cabinets tucked beneath a staircase can provide another area for items that are not needed daily.
If there are nooks or alcoves available in split level homes, these can be opportunities to add:
An attractive bench with hidden storage beneath it
A tall cabinet that will take advantage of vertical space without taking up too much floor space.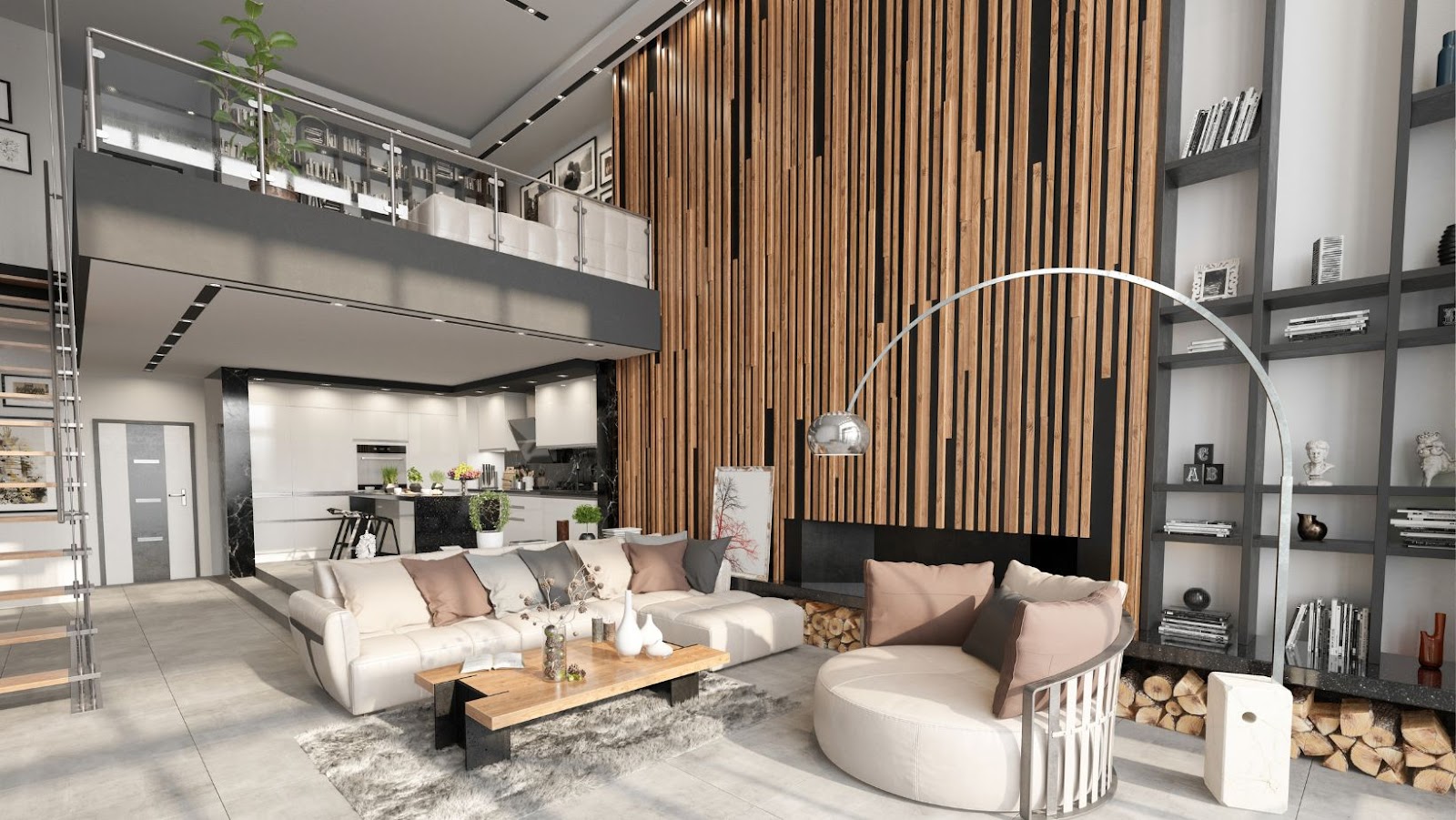 Accessories
Accessories are an important way to add a personal touch to any space, and this is especially true for split level homes. Adding accents such as throws and cushions can bring warmth to the space and make it appear more homely. Additionally, artwork hung on the walls can add color and character to the interior of your split level home.
In this section, we will discuss different types of accessories that can be used to improve the interior of a split level home:
Add curtains or drapes
The right curtains or drapes can make a big impact in any room, including in split level homes. Curtains or drapes can give the room a cozy feel while still letting in natural light, which is especially important if you don't have enough windows in your home.
Consider curtains with bright colors and bold prints to bring energy into the room, or choose neutral colors and subtle patterns for a calming vibe. When selecting curtains or drapes, try to match the look of the room's existing furniture and decorations; this will help create a unified look throughout the entire home.
Before committing to any particular set of curtains or drapes, be sure to measure your windows carefully so that you get the correct size for your needs.
Hang mirrors
Mirrors often lend an air of sophistication and space to a room's design. Hanging mirrors in a split level home can help create the illusion of extra space, make a room look larger, and add sparkle and shine to the décor.
When looking for suitable locations to install mirrors, consider reflective surfaces such as hallways, stairwells, bathroom walls and even the floor if installed properly. Strategically placing mirrors around your home can cause light to reflect off canvas-covered walls or architectural features and add dimension to any space.
Mirrors are also decorative in nature and come in various shapes, sizes and colors so it's easy to customize a split level home with these simple accessories:
Add plants or greenery
Adding plants or greenery is an effective way to improve the interior of a split level home. Plants are known to have calming, stress-reducing, and air-purifying properties, making them ideal for adding a natural decorative flair to any room in your home. Here are some tips on how to use houseplants to spruce up every corner of a split level home:
If you want more color, go for flowering and brightly colored foliage plants. Popular houseplants for this purpose include prayer plants, calatheas and ferns.
For another layer of texture in your living room or bedroom, add a trailing philodendron or monstera deliciosafrom a macramé hanger near the ceiling.
Statement pieces such as large fiddle leaf fig trees can also create dimension and focus in the home's entryway or hallway.
For an extra pop of color in a completely empty room, place potted plants with larger leaves near natural lighting from windows and doors. Red geraniums are great at adding vibrant shades of red while spider plants give off bright green foliage with their trailing vines. Orchids or bromeliads come in all shapes and colors – they might be perfect if you like something out of the ordinary! In general, arrange pots close together by size and shape to create balance when styling multiples together in one space.