The best backyard grills on the market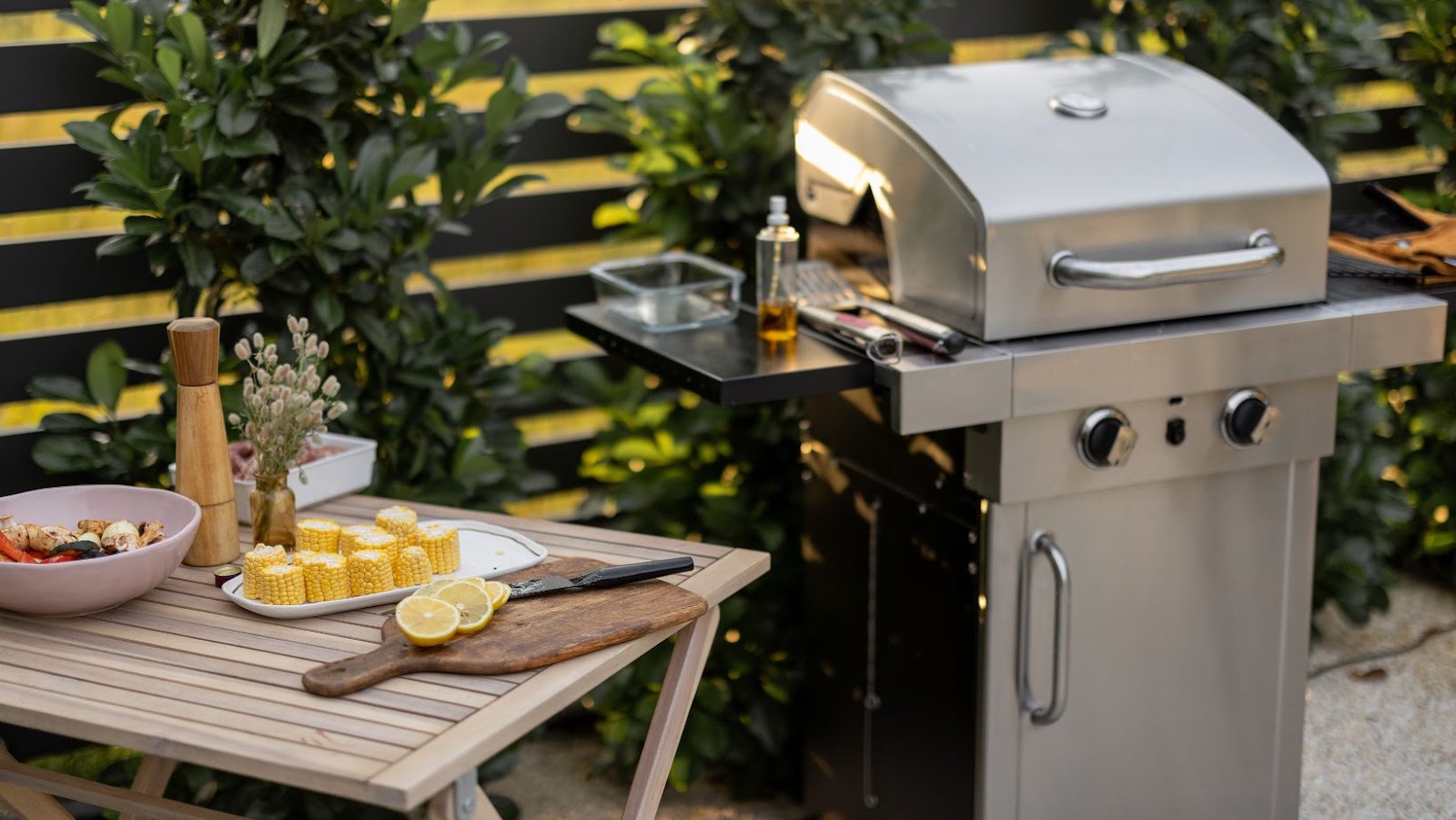 Grilling is one of the most popular outdoor cooking methods and can be a great way to enjoy the warmer months. Whether you're looking to try some new recipes or just want to fire up some burgers and hot dogs for a family gathering, having a quality backyard grill is essential. But with so many options out there, it can be hard to know which grill is right for you.
Who makes backyard grill
In this guide, we provide an overview of some of the best backyard grills on the market today and offer advice on who makes them. You'll also learn about key features, price points, warranties, and customer ratings that can help you make an informed decision. Read on to find out which backyard grill is right for you!
Weber Genesis II LX
The Weber Genesis II LX is a popular choice for backyard grilling and provides a range of features that make it an ideal choice for any backyard chef. Its stainless steel construction and superior craftsmanship make it a great option for any backyard cookout, as it is built to last for years.
Its thoughtful design provides a variety of cooking options, including direct and indirect heat methods and a removable warming rack, making it a versatile choice for your next backyard barbecue.
Overview
The Weber Genesis II LX gas grill is a top-of-the-line model from one of the premier grill manufacturers. It provides professional-grade performance with a variety of premium features and a large cooking area. With great control over heat and airflow, you can rest assured that your food will be cooked perfectly every time.
The Weber Genesis II LX includes an Infinity Ignition system that creates a spark at every knob turn for quick startups. The three stainless steel high performance burners provide consistent heat throughout the 513 square inches of primary cooking space, so you'll have consistent temperatures over your entire cooktop.
It also boasts iGrill 3 technology, which takes grilling to the next level by allowing you to monitor the internal temperature of your food via your smartphone or tablet. With its stainless steel Flavorizer Bars and Grease Management System, this grill performs well without leaving behind flare-ups or greasy buildup on the grates. Cleanup is easy with dishwasher safe components and removable grease catcher at the base of the grill.
Add in side preparation tables and six tools hooks, and you've got everything needed for carvery kings to host their next backyard bash with ease. The Weber Genesis II LX is an outstanding choice for backyard hosting with all its pro-style features!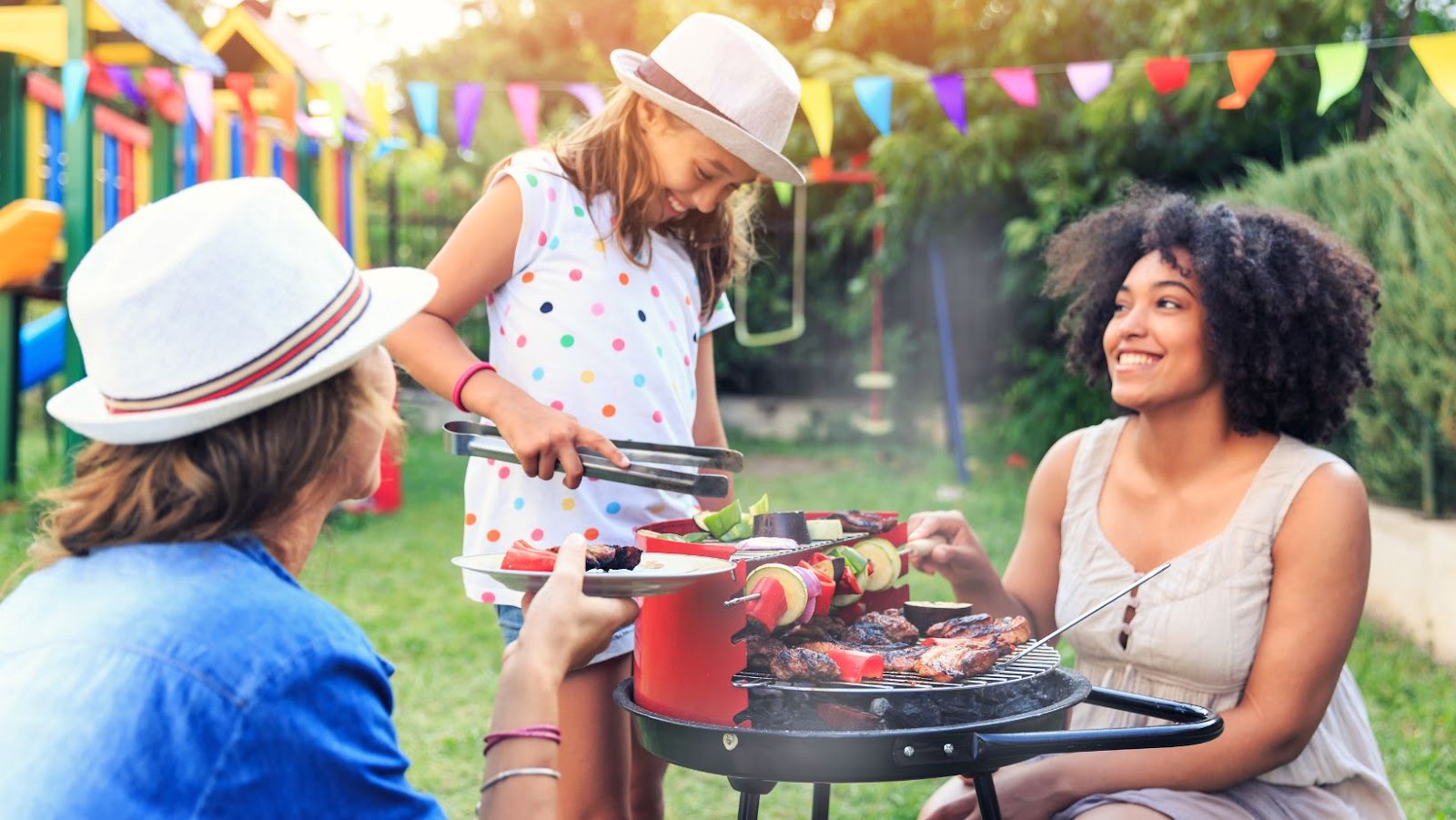 Features
The Weber Genesis II LX is one of the top backyard grills on the market today. This innovative and stylish gas-powered grill is packed with features that make it easy to create delicious meals. With its advanced Infinity ignition, three high performance burners, easy-turn dials, an integrated thermometer and more, this grill will help you achieve perfect cooking every time.
The sleek and modern Weber Genesis II LX features a built-in lid thermometer which allows you to monitor your food as it cooks and reach the desired temperatures. The three front in-line stainless steel burners boast up to 36,000 BTUs of heat, while the Sear Station™ side burner ensures evenly cooked results with unparalleled searing capabilities. The porcelain coated cast iron cooking grate helps lock in flavor by searing food nicely and adding flavorful smoky notes to your dishes. Its electronic crossover ignition system makes lighting up your grill quickly and easily with flame in every burner every time.
The Weber Genesis II LX also includes a Tuck-Away™ warming rack which allows you to warm food without drying it out, an infinity electric battery fueled push button ignition for simple lighting control, heavy duty construction for long lasting durability and stylish looks for outdoor entertaining. Plus Grease Management System reduces messes for easier cleanup and adds flavor enhancement by catching drippings during grilling. So give yourself the convenience of great grilling performance any day of the week with the Weber Genesis II LX!
Pros
The Weber Genesis II LX is one of the best backyard grills on the market and has been praised by countless consumers and professionals alike. This powerful gas grill offers a number of features that make it an ideal choice for home cooks looking to create restaurant-quality meals right in their backyards.
Some of the top pros associated with this backyard grill include its superior heat capabilities, its efficient burner design, and its sleek look. With up to 75,000 BTUs total output and three burners offering even heat distribution across the cooking surface, users are able to achieve ample searing power as well as indirect heating for slow roasting rotisseries. The efficient burner design utilizes up to 42% less fuel than standard grills, making it an energy-saving option for outdoor cooking. The stainless steel exterior provides a sleek finish that is sure to look great in any outdoor kitchen or patio setting.
Furthermore, Weber's special GS4 Grilling System ensures outstanding performance every time you grill with features such as the Flavorizer Bars which eliminate flare-ups while adding distinct flavor and the Infinity Ignition which guarantees a reliable start each time you fire up the grill.
The Weber Genesis II LX is an excellent choice if you want an easy-to-use backyard gas grill that can help you cook like a professional right in your own backyard.
Cons
When evaluating the Weber Genesis II LX, there are a few coins worth mentioning. Although the grills feature superior construction and stainless steel components, they are not as durable as some other backyard grills on the market. Additionally, they can be more difficult to clean than their competitors due to their large size. Finally, they tend to be pricier than other comparable models.
However, with the superior heat retention, relative ease of use, and even cooking these grills may make them worth the higher price tag for some consumers.
Char-Broil Performance Series
If you're looking for a reliable backyard grill, then the Char-Broil Performance Series is a great option. It is well-designed and features a stainless steel construction, which allows for easy clean-up and rust-resistance. The grill also features an adjustable cast iron cooking grate that can hold up to 18 burgers at once. Additionally, it is backed by a five-year warranty and has a total cooking area of 360 square inches, meaning you can easily feed a large crowd.
Overview
The Char-Broil Performance Series offers the latest and greatest in backyard grilling technology. It is designed to give consumers the best combination of performance, convenience, and convenience at an affordable price. This series of grills boasts advanced cooking features, top-notch construction materials, intuitive digital controls, and an array of online support options for users.
At the core of Performance Series grills is the patented TRU-Infrared™ Cooking System which ensures even heat distribution throughout the cooking surface for juicy results with no hot or cold spots. Smart Grease Management System™ keeps grease away from food resulting in virtually flare-up free grilling. The controls are easy to use thanks to digital dials and intuitive touch displays. The construction is built to last with features like stainless steel burners that resist corrosion and heavy gauge steel construction that stands up against outdoor elements like rain and snow.
Char-Broil offers a variety of grills in its Performance Series lineup that range from gas models to charcoal models; each with unique features tailored to different grilling styles – whether you're more of an optometrist or a pit master! With sizes ranging from medium (3 burners) up to extra large (8 burners), these grills can fit any backyard cooking occasion – those days when you're just having friends over for some burgers or those special events where you want your guests to be wowed by your outdoor chef skills! Whether you're searching for luxury outdoor kitchen style or just want a great value cooker you can depend on season after season, you'll find what you're looking for in Char Broil's Performance Series collection!
Features
Char-Broil Performance Series grills offer a variety of features to make backyard grilling easier and more enjoyable. These features include:
Stainless steel burners, temperature gauge, under grate condiment trays, grease management system, removable fat tray and warming rack, as well as no-flame ignition.
The stainless steel burner is designed with discreet vent maps and intense heat retention to provide even heat across the entire grilling surface while allowing you to precisely control your cooking temperature. The temperature gauge allows you to constantly monitor the inside grill temperatures in order to get perfect cooking results each time. The removable fat tray and under grate condiment trays keep your grill clean and make it easy to store ingredients close at hand for convenience. The grease management system is designed to collect juices from the food that drip from the grates in order to prevent flare-ups. Finally, the no-flame electronic ignition virtually eliminates the need for lighter fluid or a separate flame source for fast start up and use whenever you're ready for some backyard fun!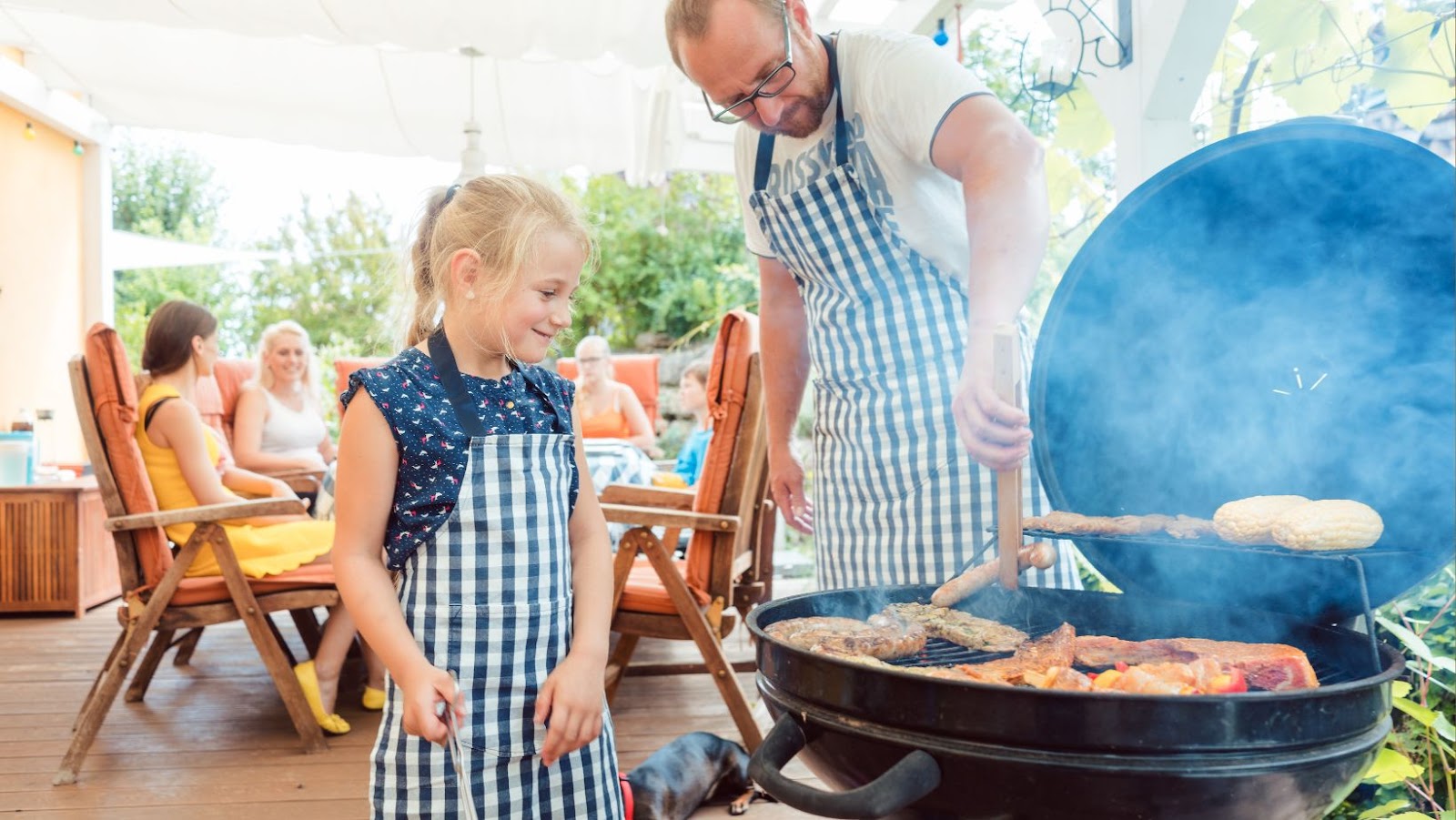 Pros
The Char-Broil Performance Series offers consumers a variety of features that make it one of the best backyard grills on the market. This series prides itself on offering superior construction and advanced technology like TRU-Infrared and Surefire Ignition systems. The Performance Series is designed to hold up to harsher weather elements while outstanding grilling performance makes this series stand out amongst other grills on the market.
Pros:
TRU-Infrared cooking system – This system helps ensure that food is cooked evenly throughout without having flare ups or areas with undercooked meat or dry sections.
Surefire Ignition System – From lighting the grill to controlling heat throughout, this system ensures a safe and easy start as well as reliable cooking temperatures throughout your entire meal.
Superior construction – Durable parts like cast-iron cooking grids, steel burners and porcelain firebox lining meet high standards for performance, allowing you to cook confidently each time you use your Char-Broil grill.
Reversible porcelain coated cooktop and grill – With one side for grilling and one side for searing, this feature allows you to cook versatile meals without taking up extra space.
Temperature gauges located in the lid – For convenient temperature tracking during grilling, these gauges accurately monitor the progress of food while alerting when it's ready to serve.
Cons
When considering Char-Broil Performance Series Grills, there are a few cons to consider. The grills can be costly compared to other brands; however, when compared in terms of quality and longevity, Char-Broil offers the best value.
Some users have also reported that the grills can produce a lot of smoke during use. The manufacturer does recommend using the provided drip tray to reduce smoke build-up, but with high heat applications like searing steaks, it is difficult to avoid it entirely. Furthermore, depending on how often the grill is used, rust can occur on the cooking surface or elsewhere if not properly maintained and cared for. Also, some users report that visually there isn't much difference between different models in terms of features beyond what is listed on the outside; i.e. side burner or rotisserie kit.
Users should consider these factors when selecting their ideal outdoor grill from the Char-Broil Performance Series line:
Cost
Smoke production
Maintenance and care
Features
Traeger Renegade Elite
The Traeger Renegade Elite is a great choice for those who are looking for a backyard grill to be the centerpiece of their outdoor entertaining space. This powerful cooking system features Traeger's iconic Digital Elite Controller with 8-in-1 versatility, allowing you to create gourmet meals that are hard to replicate on other grills. It is a reliable and durable model that's designed to last while providing a convenient and easy to use experience.
Overview
The Traeger Renegade Elite is an advanced and highly rated backyard grill that allows you to cook almost anything with ease. Featuring a digital thermostat control, the Traeger Renegade Elite makes for a reliable and efficient grilling experience. Boasting ease of use, the Renegade Elite has loads of impressive features to make cooking a breeze:
An 8-pound hopper capacity to provide hours of continuous cooking
Many temperature settings for precise grilling
Two convenient side shelves for working space and storage when not in use
Whether you're an experienced outdoor chef or just getting started, the Traeger Renegade Elite is a great investment if you're looking for a reliable and high-quality backyard grill.
Features
The Traeger Renegade Elite is one of the best backyard grills on the market. This versatile backyard grill delivers wood-fired taste and excellence in every bite you take. Here are some of the features that set it apart from other grills on the market:
Premium build quality: The Renegade Elite is constructed with premium-grade stainless steel, making it a rugged and durable choice for your outdoor kitchen. Its 304 stainless steel grates are designed to handle high temperatures and resist sticking, allowing for evenly cooked foods every time.
User-friendly temperature control: With its Digital Elite Controller, this grill allows you to set and maintain cooking temperatures as low as 180°F or as high as 500°F. You can even set timers with just a few simple button clicks.
Smart Smoke Technology: With Smart Smoke Technology, this grill allows you to turn any area of your yard into a blaze of flavor while giving some great smoke flavor to your food at the same time thanks to its dual convection ventilation system. It also features an integrated grease management system that helps keep maintain cleanliness while you cook outdoors.
Fold down side shelf: This fold down side shelf provides added prep space when you need it most, allowing you to keep all ingredients within easy reach no matter where you're grilling up your favorite recipes! When not needed, simply fold it up for more room throughout your outdoor kitchen area.
Pros
When it comes to choosing a backyard grill, the Traeger Renegade Elite is always an excellent choice due to its superior design, quality, and innovative features. Here are some of the key benefits of using a Traeger Renegade Elite when cooking your meals:
It has a powerful Traeger Wilson Digital Pro Controller that provides accurate and precise settings for temperature control; this makes it easy for you to precisely adjust the temperature of your food for perfect results every time.
It features an all-inclusive digital display that allows you to view both the current internal temperature of your food and set your desired cooking time with just one touch.
It's equipped with an advanced grilling technology called Grease Management System (GMS) which helps reduce flare-ups by capturing fat before it can ignite; this helps make grilling safer and more enjoyable.
The grill also uses dual meat probes which allow you to monitor the internal temperatures of different foods simultaneously; this makes it easier for you to cook multiple items at once with total accuracy.
The grill is powered by hardwood pellets which are not only eco-friendly but provide consistent heat that ensures evenly cooked meals every time.
If you're looking for a dependable backyard grill that will give you delicious results every time; then the Traeger Renegade Elite is definitely the top choice!
Cons
The Traeger Renegade Elite is one of the most popular backyard grills on the market, but there are a few drawbacks that should be considered before making the purchase.
The first and perhaps most obvious con is the price. At nearly $700, it's not usually an impulse purchase, and you may find yourself doing some budgeting just to afford it.
Another possible con is that, while the Traeger Renegade Elite has several great features like digital temperature control and an electric igniter, it can also be somewhat fragile. Not only can this be a time-consuming fix for home chefs but it can also add up in cost if repairs are needed more than once or twice a year.
Finally, for users who prefer more options when barbecuing their food, you may find the Traeger Renegade Elite limited in functionality compared to other grills. It lacks charcoal capabilities, so if you're looking for that smokey flavor that only charcoal can provide then this might not be the perfect fit for you.
Conclusion
This article has reviewed some of the most popular backyard grills on the market today. Ultimately, the choice of which grill is best depends on personal preference and budget.
If you are looking for a well-priced, reliable gas grill, Weber's Spirit II E-210 has great features and a reasonable price tag. If you need something more portable and affordable, Char-Broil's Classic 360 gas grill is perfect for tailgates and camping trips. If you are looking for an authentic wood-fired experience with charcoal grilling, the Char-Griller Akorn Kamado Kooker is an excellent choice.
Regardless of which backyard grill you choose, providing a memorable meal for yourself and your family is achievable with any of these top models.